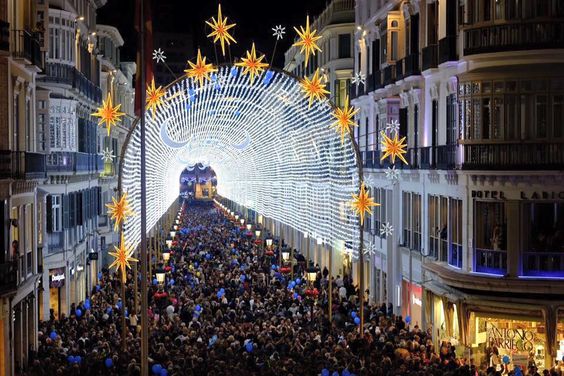 Magical Christmas switch-on in Malaga
Are you looking forward to a wonderful Christmas event? So, don't lose the Christmas switch-on. Malaga turns on their streets with a huge celebration every year about a month prior to Christmas day. Despite the lack of snow and frost, Malaga Christmas events are still exciting as the city lights up with holiday decorations. Almost every village, town and city in Andalucia decorates its streets with lights at Christmas but the best light show in Andalucia has to be the Malaga lights which starts normally from the end of November till first week of january.
The Three Kings are traditionally celebrated in Spain with a large parade commemorating the arrival of the Three Kings to give the gifts to the baby Jesus. Every year, concerts and shows are held in the historic city's streets. Instruments such as violins, guitars, and flutes can be heard at the foot of the Alcazeba, in the Plaza de la Merced, and on the long Calle Larios. Take some time to stroll around the Costa del Sol's capital to catch this special treat for your ears.
Sparkeling Christmas trees in Málaga 
Christmas trees have been a long-standing tradition in many countries around the world. Every year, families and communities come together to celebrate the holiday season by decorating and displaying a Christmas tree. For some, it is a way to honour their faith, while for others, it is simply a way to bring festive cheer into their home.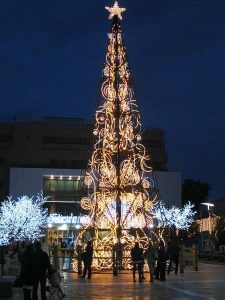 Malaga's switch-on celebration has also emphasised this Christmas element, and in addition to the lights, there are traditionally five Christmas trees around the city. Look for it on Plaza de la Marina, Plaza de la Constitución – where you can go "inside" the tree, Plaza del Obispo – where it looks magical at night next to the illuminated Cathedral façade, Plaza de Enrique Garca Herrera – on the square to the west of Calle San Juan, and in Huelin Park, where it lights up the lake.
Enjoy the artistic nativity scenes
The Christmas season is full of joy and excitement, but one of the most iconic symbols of the holiday is the nativity scene or Belen. The nativity scene, or creche, is a traditional depiction of the birth of Jesus, with Mary, Joseph, the Baby Jesus, and various animals and characters from the Bible. For centuries, nativity scenes have been used to represent the true meaning of Christmas, and their popularity continues to this day.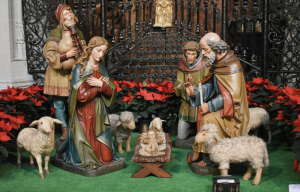 Nativity scenes come in all shapes and sizes, from small figurines to large outdoor displays.The Christmas nativity scenes will undoubtedly appeal to children. The Cathedral, Cofradía de Estudiantes, and the Carmen Thyssen Museum house some of the most elaborate and popular Belen. So choose one and enjoy these artwork with your entire family.
Christmas Markets In Malaga
Malaga's fantastic Christmas markets seamlessly blend traditional European winter charm with plenty of fun and sun. One of the most iconic Christmas markets in Malaga is at Paseo del Parque. The stalls here sell everything from Christmas sweets to handicrafts to beautifully bound books. 
Just by the water, a fantastic Christmas market has sprung up, brimming with great holiday bargains. This annual market is a great place to try some of Malaga's traditional Christmas sweets. Malaga's trendy Soho area is home to a more alternative Christmas market. It consists of works of art, handcrafts and vintage art produced by local artists.
---
Do you want to know more about the fantastic locations and events on the Costa del Sol, or about purchasing property there? So, check out our other blogs as well !