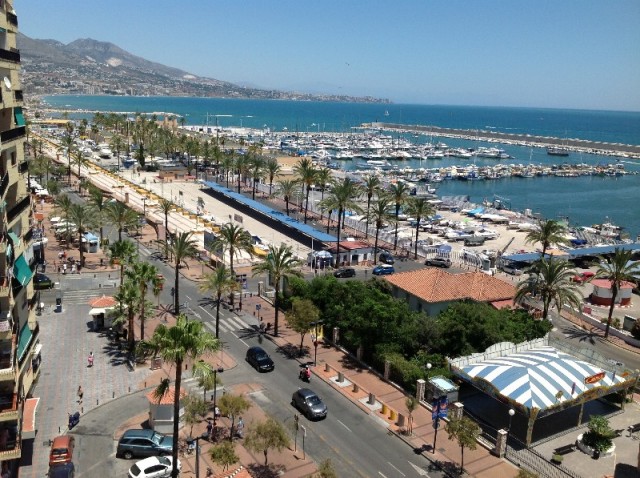 Fuengirola, originally a fishing village
Fuengirola is one of the many and popular coastal towns on the Costa del Sol. This city is best known for its long sandy beaches. But also for the apartments with beautiful views of the Mediterranean sea and coastline. The coastline is no less than 8 kilometers long, which makes it the longest coastline in the province of Málaga. Although the city of Fuengirola is located approximately 32 kilometers from Málaga.
About Fuengirola
Like many other coastal towns in Andalusia, Fuengirola was originally a fishing village. Nevertheless today it is a seaside resort with the longest promenade in the province of Málaga. Fuengirola is located in the south of Spain, on the Mediterranean Sea. Places such as Torremolinos, Marbella and Mijas are nearby.
The pleasant center consists of narrow car-free streets. Because you will find a tapas bar, terrace or restaurant on every corner, you really imagine yourself in Spain. You can relax in Fuengirola. The weather is pleasant all year round, with summers being quite hot and winters mild. In addition, Fuengirola is conveniently located for the main attractions on the Costa del Sol. For example, in Fuengirola you can still see the urban design of the Romans.
Sights and activities
You don't have to get bored in Fuengirola! Here you will find, among other things, nice family activities such as the zoo Bioparc and the Aqua Park. Move around the city by train or in a carriage. But Fuengirola is also the place to be for a large number of water sports.
Sohail Castle, the castle of Fuengirola, has become the symbol of the city. You will find this 12th-century castle just outside the city on a hill, offering impressive views of the sea. Sohail Castle is free to enter. Cultural festivities and live concerts are regularly organized here in summer. In August, a medieval market is held where you can buy all kinds of historical products.
Another attraction is the weekly market on Tuesday. Here you will find clothing, food and local products. Besides to the weekly market, you also have a flea market on Saturday. Finca del Secretario, the Roman open-air museum is also well worth a visit. This museum was accidentally discovered during the construction of a railway line in 1970. Archaeological excavations can be viewed here.
Living in the seaside town of Fuengirola
The properties offered in Fuengirola combine Andalusian charm with modern design. Many of these exclusive properties are located in a popular and privileged area, right on the beach and promenade. With all facilities and amenities within walking distance. Besides (renovated) existing apartments, you will also find many new-build homes here. Furthermore there are also a few unique deals.
An example of such a unique deal is this beautiful apartment complex in the heart of Fuengirola. The apartments have 2 or 3 bedrooms and 2 bathrooms. The penthouses have 3 bedrooms and 2 bathrooms. All amenities are within walking distance and you have direct access to the highway.
This modern residential complex consists of 294 homes of high quality. Also the residential complex has 2 communal swimming pools, a sports field and a children's play area. Prices from € 159,000, including a garage and storage space.