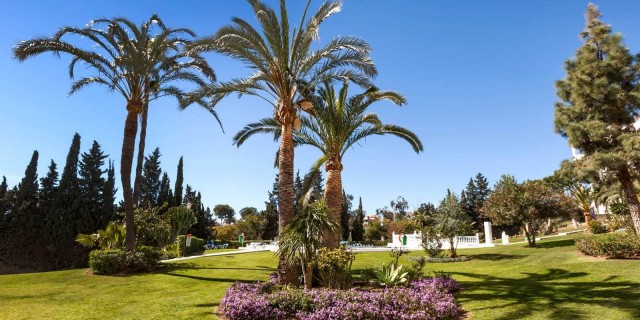 Well-known seaside resorts on the Costa del Sol
One of the most popular regions in Spain is the Costa del Sol. You have no less than 320 days of sunshine a year, making this a wonderful destination almost all year round. In addition to the favorable climate, you will find beautiful beaches and special culture here. Apart from being a popular holiday destination, the Costa del Sol is also very popular with foreign property buyers. Curious about some well-known and popular seaside resorts on the Costa? We have listed a number of them in completely random order.
Mijas
Here you will find a piece of authentic southern Spain through the many white houses and unspoilt nature. Mijas, in the south of the Costa del Sol, is a great destination due to its sunny climate and central location. The municipality of Mijas consists of 5 villages, two of which can be found inland and three on the coast. Mijas is not only a haven for golfers and beach lovers, but it also has a great number of bars and restaurants. This popular holiday destination has also become increasingly important as a location for a second home in recent years. You can find our best deals in Mijas here.
Benalmádena
You will find Benalmádena between the municipalities of Torremolinos and Fuengirola. During the summer months Benalmádena is a popular holiday destination, while in the winter months many people spend the winter here. Characteristic of this municipality are the various tourist sites, religious buildings, lighthouses and cave drawings. You will also find an authentic center here. The old town, also known as Benalmádena Pueblo, consists of a maze of beautiful and quiet alleys and streets. But also, for golden sandy beaches you have to be in Benalmádena. Characteristic of the boulevard are the numerous shops and restaurants. In short, Benalmádena offers opportunities for sports enthusiasts and for relaxing. View our most current housing offer here.
Fuengirola
Fuengirola, like many other coastal towns in Andalusia, is originally a fishing village. Today Fuengirola has grown into a cozy and modern seaside resort. This city is best known for its long sandy beaches. With a coastline of no less than 8 kilometers (!), This is the longest coastline in the province of Málaga. During a visit to Fuengirola you really imagine yourself in Spain. Here you will find some of the main attractions of the Costa del Sol. Fuengirola is especially popular with sun, sea and beach lovers. Well-known attractions are the zoo, Aqua Park and the large weekly market on Tuesdays. Look here for our most current housing offer.
Estepona
Just a 15-minute drive from Marbella, is the beautiful fishing village of Estepona. Estepona is distinguished by its Andalusian identity: picturesque squares with ornate fountains, whitewashed houses with hanging baskets filled with colorful flowers and a charming harbor area. The municipality of Estepona promotes itself as the 'garden of the Costa de Sol'. We are therefore working hard to make this seaside resort as cozy as possible with flowers and a botanical garden. Despite the presence of tourism, this place is renowned for the authentic atmosphere it has preserved. You can find the current housing offer in Estepona here.
Málaga
Not officially a seaside resort, but the city of Málaga is definitely worth mentioning. Málaga is surrounded by beautiful sandy beaches. In the historic center you will find many beautiful buildings, sights and museums. In recent years, Málaga has grown from a town on the Costa del Sol rarely visited by tourists to one of the most popular holiday destinations in Europe. Málaga is now one of the three largest cities in Andalusia. More and more people want to buy a house in Málaga. Such urbanizations belong to the municipality of Málaga. More and more often several old buildings are being completely renovated.
Torrox and Torre del Mar
East of Málaga are places like Torrox and Torre del Mar. Less touristy and therefore perhaps also more potential. Torrox consists of two parts, namely the seaside resort (Torrox Costa) and the old town (Torrox Pueblo). You can easily escape from tourism and the hustle and bustle of the area here. Torre del Mar is located on the coast and has a wide boulevard of almost 4 kilometers long. You will find sports activities, many entertainment options and plenty of shopping streets here. In short: Torre del Mar is a seaside resort where you never have to get bored. Here you will find the current housing offer in Torrox and Torre del Mar.