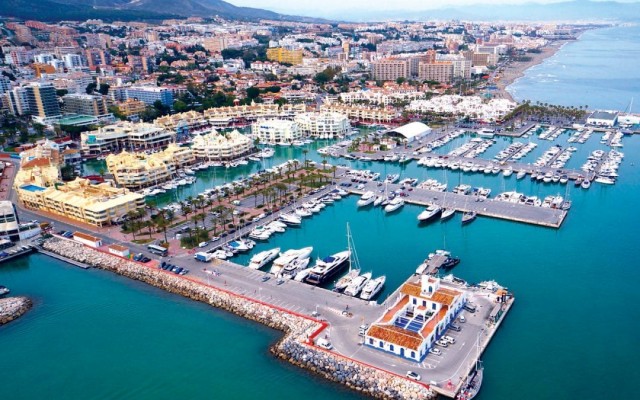 Discover the bustling resort of Benalmádena
Benalmádena is a municipality in the Málaga region, and has around 60,000 inhabitants. The city consists of three parts namely: Benalmádena Pueblo (the old village), Benalmádena Costa (on the coast) and Arroyo de la Mie. This municipality is located between Málaga (12 km to the west) and Marbella (42 km to the east). This place is best known for its beautiful beaches, the Tivoli theme park and its nightlife.
Benalmádena Pueblo
Benalmádena Pueblo is the old and charming inner city. A jumble of beautiful streets and alleys. Houses in this region are often whitewashed, which is typical for the Costa del Sol. You will also find attractive terraces and restaurants here. (Source)
An absolute highlight of Benalmádena Pueblo is the Mariposario Butterfly Park. This is Europe's largest park, entirely devoted to butterflies. About 1,500 exotic butterflies, belonging to 150 different species from all over the world, live in the 900 m² garden of the butterfly park.
Benalmádena Costa
Benalmádena Costa: the seaside resort with fantastic sandy beaches. You will find more than 9 kilometers of beaches here. These beaches offer a wide variety of visitors. You don't have to just laze around here. You can also choose to discover the Mediterranean during a (mid) day of water sports.
An absolute sightsee in Benalmádena Costa is the beautiful marina Puerto Marina. Which is one of the most beautiful marinas in the world! You will find 1,100 moorings here. In addition, partly due to the good weather, various activities and events are organized throughout the year. You will also find Sea Life Center at the port. A theme park that focus on the underwater world. Especially suitable for children. But shopaholics can also indulge in Benalmádena Costa.
Arroyo de la Mie
Between Benalmádena Pueblo and Benalmádena Costa, lies the residential area Arroyo de la Mie. You will find here mainly spectacle in one of the multiple tourist attractions. If you are not afraid of heights, a ride on the cable car is definitely worth it. A drive up takes about 15 minutes. The cable car takes you into the mountains, up to the top of Monte Calamorro. You hereby enjoy a beautiful 360 degree view of the Costa del Sol. The view is particularly beautiful on clear days. On good days you can even see the coast of Africa!
Another must see in Arroyo de la Mie is Tivoli World amusement park. You will find here more than 40 attractions, for young and old. In addition, regular performances such as magic shows, theater performances and concerts are organized here.
Living in Benalmádena
The properties that are offered in Benalmádena combine the Andalusian charm with modern design. Many of these properties are located in the heart of the Costa del Sol. Benalmádena Views is such a home, just a few minutes from the sandy beaches. A relaxed lifestyle on the Mediterranean is central here.
Existing homes in Benalmádena are often outdated, an appearance that you often see in such seaside resorts. Of course there are always a number of unique deals to find. You can assume that the prices in Benalmádena are higher, since we are talking about a hotspot here. Keep an eye on our website for the most up-to-date offers in Benalmadena and the best deals.