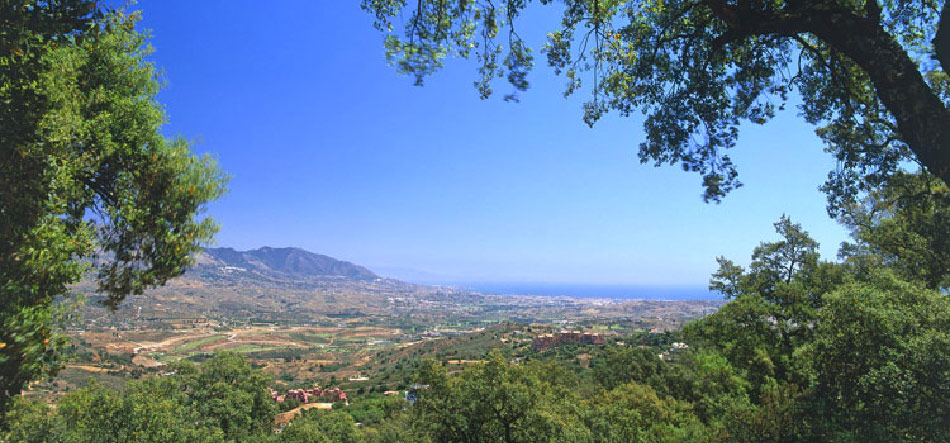 Elviria: small but beautiful
Elviria is a town in Southern Spain, in the province of Málaga. The place is mainly known among British tourists, but has nevertheless remained very calm. And how is that possible? It offers countless options, but for the general tourist the town is just a bit too small. This way Elviria stays exclusive, peaceful and you can enjoy it all the way!
A perfect location
Elviria is situated between Marbella and Fuengirola, so you can't find a better location! Marbella is so nearby that you can get there within 10 minutes by car. Málaga is also not too far away, it only takes 45 minutes to reach the international Málaga Airport. Very convenient if you travel by plane or if you have company coming over. The city also has several urbanisations such as Hacienda Las Chapas and Cabopino. It also borders the El-Rosario district of Marbella and is close to Puerto Banus. All these places offer the most beautiful coastlines and lively marinas and harbours.
But enough of all the surrounding places, what does Elviria have to offer? Well, a lot! The place is a real beach spot and it is even claimed that it has the most beautiful golden sand beaches of the Costa del Sol. But as well as being right on the coast, Elviria is also right next to the mountains. With a landscape rich in vegetation, you will be amazed.
The versatile nature of Elviria
Besides the sandy beaches of Elviria, there is even more nature to be found. And some places of nature are still unspoilt. Firstly, the town itself is filled with pine trees and cork oaks, so it is a green place. But there are also mountains to visit and climb, such as El Soto de Marbella and the La Mairena area. Biosphere environments with the best views. For example, look out over the Mediterranean Sea, the Sierra Nevada, the Rock of Gibraltar or Africa! Of course, it helps if the air is clear.
With a subtropical Mediterranean maritime climate, all areas can be enjoyed. With hot summers and warm winters, you can go out every day or sunbathe on the beach. In summer, it is around 32 °C, but the cool breeze from the sea allows you to enjoy this weather to the max!
Facilities
Elviria is quite small; it certainly cannot be compared to Marbella or Málaga. Yet, this town offers more than enough. For example, Elviria is known for its luxurious facilities and very attractive harbour and beaches. Here, you can enjoy the amenities of several five-star hotels such as Don Carlos Hotel or visit the famous beach clubs such as Nikki Beach and The Beach House. Or perhaps a luxury dinner at the Michelin star restaurant El Lago?
There are also several golf courses in and around Elviria. The most famous is the Santa Maria Golf & Country Club with 18 holes! The El Soto Golf & Country Club, Cabopino Golf Club and Greenlife Golf Academy are also nearby. But if you are more into tennis – don't worry, there is also a Tennis Academy in La Mairena.
Finally, there are many marinas, shops, bars, restaurants and other leisure activities and attractions in Elviria and its surroundings. And with a perfect location between big vibrant cities, you will not get bored easily.
Living or on holiday?
After listing these most famous and fun things about Elviria, I would like to point out that there are also plenty of things to do on a normal basis. Because although Elviria has a lot to offer to the tourists, they are not there very often. Often the offer is too "limited" or too "luxurious" causing the actual vacationers to go to other beach places. Because of this, the population of Elviria is low to average and the place has many Spanish residents.
Because the place has many luxury and international facilities, many residents can speak Spanish and English. There are also three international private schools and an international college in Elviria, where they teach in English.
In terms of housing, it is very scattered throughout Elviria.  Of course, there are hotels along the beach or in the centre (only a handful at the moment!), but especially outside of these areas, there is enough space to build your dream house. Existing houses are of course also available and can vary from typical Spanish homes to new developments. There are mainly villas present in Elviria, together with several apartment residences.
Thus, as you can hear, there are plenty of reasons why Elviria would not only be a suitable holiday destination but also a suitable place to live permanently. All the necessary amenities – common or recreational – can be found here. Either way, you will have fun here and enjoy the peace and quiet and luxury you desire!
–
Find your dream home together with our partners SLG Property and CasadelMar. From apartment or penthouse to detached villa, in the most beautiful cities in Málaga province. See examples of the types of properties for sale in our previous blog or on the websites of our partners.