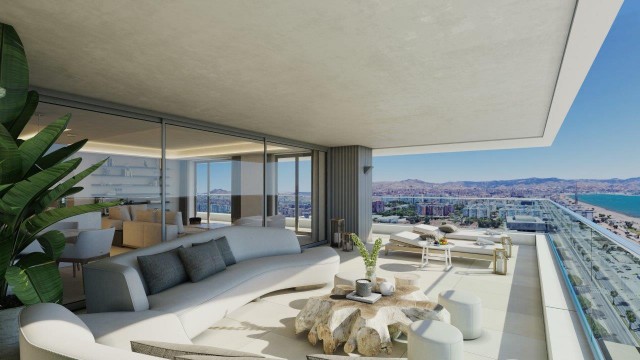 Málaga: the best city in Spain to live in
Research by the European Commission confirms that Málaga is good living. This sunny city is one of the best places to live in terms of quality of life. According to the EC, Málaga is in the top 10 of good places to live for immigrants, the elderly and those who agree that it is easy to find good housing at a reasonable price. Curious about what makes life in Málaga so special? Then read on.
Málaga in short
Málaga is one of the three largest cities in Andalusia. More and more people know how to find their way to Málaga, partly due to its favorable climate. Summers are pleasantly warm, and you can also enjoy pleasant temperatures in the winter months. It is not without reason that Málaga is called the capital of the Costa del Sol. The transformation of the city is still taking place. Málaga now has a wide range of cultural attractions such as museums and beautiful architecture. But you also have to be in Málaga for excellent restaurants and bars. You also have to be in Málaga for beautiful sandy beaches. These are easily accessible from the city center. All of Málaga beaches have good amenities, such as high season rescue services and many beach bars and restaurants.
Research results
Various European cities have been included in the study of the best city to live in. To determine how happy people are, they were asked about, among other things:
Public transport – Málaga scores 71% satisfaction in this area, which puts it in 5th place. It can be said that residents of Málaga are generally satisfied with public transport;
No less than 96% of the inhabitants of Málaga are happy and satisfied with their life in the city. The good weather, the beach and in general the atmosphere that is noticeable all year round in Málaga may contribute to happiness;
In the field of hospitals, doctors and health services, Málaga scores 67% satisfaction and is halfway down the list;
Cultural facilities – This offer is developing strongly in Málaga. It is therefore expected that this figure will increase rapidly;
Public spaces and squares – These are elements that determine the culture of a city and its life. A score of 71% is a good position. Málaga has many playgrounds for children, some of which are even considered some of the best in Spain;
Sports facilities – Adventure sports for the daring and many walking routes can be found in Málaga. In terms of sports facilities, Málaga has a 67% satisfaction rate;
Air quality – 70% of those surveyed are satisfied with the air quality. Málaga is one of the cities in Spain with the best air quality;
Finding a place to live easily, for a good price – With 63%, Málaga is one of the top positions in terms of satisfaction. However, a penthouse by the sea still remains expensive. (Source)
Reasons to live in Málaga
Earlier we wrote about living in vibrant Málaga, a city that has been booming in recent years. Why is that actually? And why would you want to live in Málaga?
In Málaga the sun almost always shines, with an average temperature of 18.4 degrees. As a result, it can be maintained here all year round. The many hours of sunshine are also likely to influence the good mood of the inhabitants of Málaga. The population is friendly and helpful;
Some of the best beaches on the Costa del Sol can be found in Málaga. But the beaches of Torremolinos and Fuengirola are also easily accessible;
Besides the beautiful and historic center, Málaga has a lot more to offer. You will find various creative neighborhoods and old fishing villages here. You will also find many types of museums here. Prefer a visit to a nearby city? That is also possible. Málaga has a convenient central location;
The province is surrounded by beautiful nature and is the most mountainous province in Spain. You can walk and cycle extensively here;
The Price Level in Málaga is a lot lower than in other popular Spanish cities. This applies to both living costs and house prices. Investing in a property in Málaga or near the city is still beneficial. (Source)
Living in Málaga
Due to, among other things, the high quality of life and the favorable climate, the demand for a (second) home in Málaga is increasing every year. While tourists still often visit Málaga for a city trip, many potential home buyers see the city as an ideal location to buy a second home. Several new construction projects are planned here. These are typical homes, aimed at investors in a second home or holiday home. Equipped with all the luxury and comfort one could wish for: breathtaking views, swimming pools, beautiful gardens and golf courses in the vicinity.
But such urbanisations also belong to the municipality of Málaga. More and more often several old buildings are being completely renovated. This may be particularly interesting for lovers of characteristic houses in the center of Málaga.