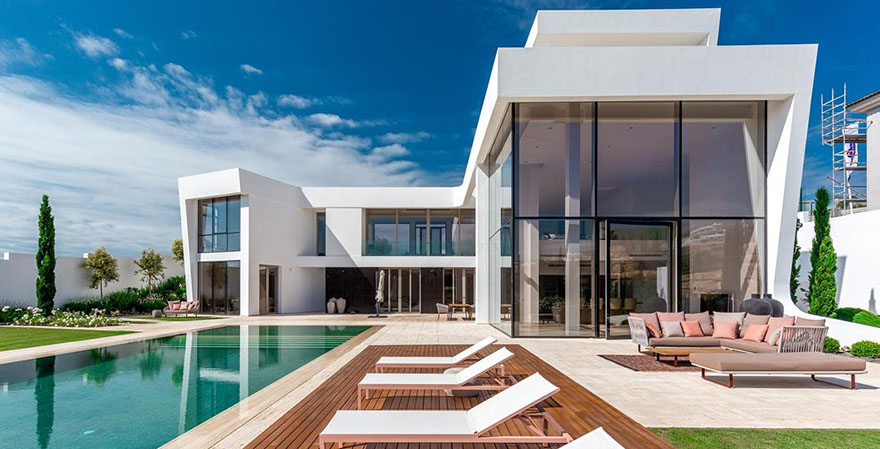 House in Spain: existing homes versus new construction?
We have already mentioned that in Spain more and more new construction projects are under way and the demand for new homes has increased, especially among foreign buyers. The high demand for such projects ensures that many objects are already sold off the drawing board. On this page we make a distinction between existing homes and new construction and look at the advantages and disadvantages.
Benefits of new construction
When you invest in a new house in Spain, the big advantage is that you are the very first owner. This means that everything is completely new, you do not have to worry about overdue maintenance and about strict environmental requirements. In many homes you have the choice of different types of kitchens and bathrooms, etc. It can be assumed that such complexes have the most recent construction and energy certificates. The latter can be quite an important point of attention when it comes to purchasing certain existing homes. Certain costs, such as transfer costs, etc. are low or do not even apply.
Many brokers also rightly speak of the increase in value. Currently there is a huge demand for new homes, especially in the Spanish Costa's, where the value can rise by 10 to 30 percent during the construction phase.
Disadvantages of new construction
The supply is increasing, but as a buyer of a new building object you do not have a concrete home yet. It has to be built first. And as long as you do not yet have an actual house and have only made a choice based on drawings, it remains to be hoped that the project will actually be implemented. Project developers in Spain generally work more slowly and the chance that construction is delayed is very high. There is always a chance that the entire project will not take place, so let yourself be informed in advance by your broker.
In addition, the environment of a new home and complex looks rather bare. Despite the promise that many facilities will be added, this can take longer.
Benefits of existing construction
Whether it comes to an existing or bank repossession, in most cases the future occupant can prepare to move into this house soon. Ready-to-move-in houses are often (partly) furnished. When it comes to the purchase of a holiday or second home, this can be very useful. The previous owner can also decide that you can buy part of the furniture. If you buy an existing home in a residential complex, you often get direct access to the facilities, such as the swimming pool, fitness rooms and all kinds of other things that the site has to offer. And the time to transition is obviously a lot shorter. In the case of bank repossessions, this is usually arranged in no time.
Disadvantages of existing construction
Due to the possibly outdated condition of this property, there is a chance that maintenance costs are much higher. Of course, many things have to be changed to your taste, such as the bathroom and kitchen and that can cost a lot of extra money. In addition, some bargains also seem to be so attractive because of the low prices, but when you have to invest that much in renovations, the choice for a new house was in a sense more advantageous.
New construction: the best return
When you buy a property from a drawing boards, it still means that you do not have to pay all costs. Usually the project developer in question asks for about a 30 percent down payment, often spread over a few terms, as a depostit. The remaining 70% will be paid at completion. In most cases, the bank provides a specific construction guarantee for the first 10 years, so you can assume that the construction will continue, even though there may always be a chance of delay. Since many brokers concluded that the demand for such developments increased, you can assume that the value of your home can increase up to 30%. Therefore it sometimes happens that (foreign) investors decide to resell the property before completion in order to earn a profit.
Rental plans?
Many investors or buyers of a second home abroad want to sublet the property in the months that they are not present themselves. This is often permitted at such a residential complex, although it has been found that the options for subletting new complexes are better. You will always have to inquire about the options before signing.