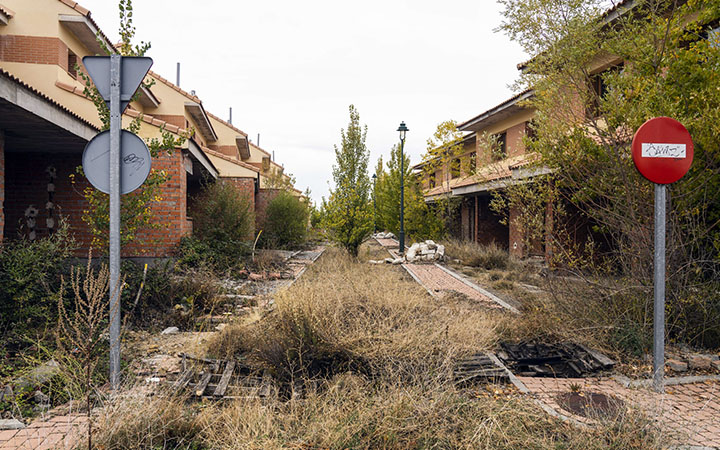 The problem of Spanish Ghost Towns
In Spain the real estate market is booming, but the country is facing a problem: the ghosttown. Unoccupied villages with semi-finished houses that nobody one wants. These proof to be the biggest headaches for brokers and banks that own such neighborhoods and houses.
Phooto credits: Angel Navarrete/Bloomberg – Source.
Two real estate markets
About a decade after the financial crisis hit the economic world, the recovery of property in Spain is a story about two markets. Large cities like Madrid, Barcelona and Valencia and tourist hotspots benefit optimally from this booming period, fueled by interest rates that are still close to the historic low, an economic recovery and a banking system that is finally putting things in order.
But on the other hand, just beyond the centers of these cities, to the edge of smaller villages, ghost towns still adorn the landscape. Once started as ambitious developments, often on agricultural land that was converted into various building plots just before the crisis. Several houses, half completed, sometimes only concrete skeletons, for which no buyer or developer can be found.
Billboards
Faded advertising boards still show the ambitious plans that developers once had. Complete complexes, like in Segovia (just 27 minutes from Madrid), with luxurious swimming pools, gardens, tennis courts and more. These amenities does not exist. Only a few houses are inhabited. Others are empty, partly bricked up for fear of squatters. There is often electricity and water, but this is done in a creative way. The big mistake that various organizations have made is visible here: insufficient response to the market and the lack of buyers, so that houses were built, for which no potential buyers existed.
Bank repossessions
Banks provided loans to developers who had little to lose if a project did not find a buyer because the money was not theirs. The result was an almost total collapse of the market and nearly $ 200 billion of sourced assets.
Several companies that now own such 'ghost towns' now do it as follows: renting houses instead of selling them. This in an attempt to make people less able to afford the opportunity to own real estate. Spain had a relatively high home ownership before the crisis, but it has since come down. Although we already see that the market is also on the rise again.
New permits
While buying a home in a Spanish ghost town is not lucrative, there is light at the end of the horizon. In popular cities and areas, including Málaga, invariably more permits are issued for the development of new residencies.
The question is uneven: Madrid has had an average of 2,151 licenses per month since 2008, the best year. In Segovia, an average of 25 homes licenses were approved per month in 2018, compared with an average of 180 homes ten years earlier. The volume of home mortgages sold in Spain peaked at the end of 2005 and reached a low point in 2013. Since then, this has been gradually picked up, with 28,755 permits granted in August 2018, an increase of seven percent when compared with 2017.
The coast and the big cities
Licenses for various large projects on the coast and around the big cities are therefore delivered in no time. Spain can not even handle such building constructions at this time. And the ghost towns: these only seem to benefit and be rebuilt if it turns out that the facilities and lots in the vicinity are built up.