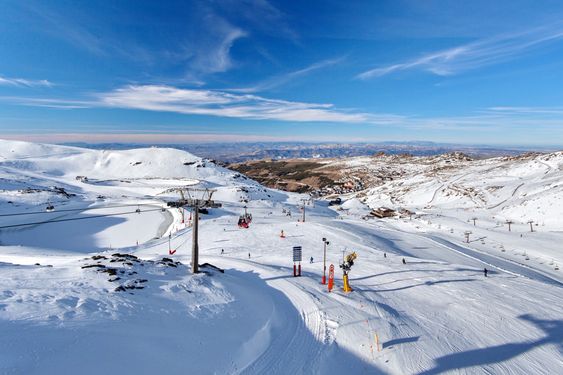 The best winter sports areas of Spain
When it comes to winter sports, many people think of places like France and Austria, but also in sunny Spain you can ski and snowboard well. The Spanish Pyrenees offers you no less than 520 kilometers of ski slopes and 7 excellent options. The most famous area in Spain for winter sports is Sierra Nevada in Andalusia. After a day of skiing, you can enjoy tasty tapas and a glass of sangria during après-ski.
Ski holiday in Spain
When you think of Spain you probably immediately think of sun, sea and beach. But did you know that you can also enjoy a winter sports holiday here? For example, skiing in the famous Sierra Nevada is a wonderful experience for (experienced) skiers and snowboarders. Here is the highest point at 3300 meters and especially the Spaniards themselves know this area.
The Spanish Pyrenees also offer countless possibilities as a winter sports destination. Here you find in total more than 520 kilometers of ski slopes, divided over 7 ski areas.
In general, a skiing holiday in Spain will be quite sunny. Spanish ski areas are modern and snow cannons are used in many places. Après-ski in Spain also has a different interpretation compared to typical winter sports areas. Where typical winter sports areas are known for drinking mulled wine and looking for an après-ski hut, in Spain you really go to a winter sports area for skiing. After a day of skiing you can enjoy delicious tapas and a glass of sangria or Spanish wine.
Travel organizations hardly offer ski holidays in Spain. If you want to go on a skiing holiday in Spain, you will have to organize it yourself.
The most famous Spanish ski areas
Below you will find some of the best known and most beautiful ski areas in Spain.
Sierra Nevada (Andalusia) – A beautiful and possibly the most famous ski resort in Spain. Sierra Nevada is located in the south of Spain, near Granada. A ski area with excellent facilities, 83 kilometers of ski slopes and more than 20 ski lifts. Here you will find the highest peaks of all Spain. The area has mainly blue and red runs, and some black ones. Skiing is possible from December to May. Also very popular with the Spaniards themselves.
Baquira-Beret-Bonaigua (Spanish Pyrenees) – This area is especially attractive for advanced skiers because of the red and black slopes. Simpler slopes are now also being made in Baquira. You will find no less than 104 kilometers of slopes here, making this the largest and most exclusive ski area in Spain. The highest peak is 2510 meters high. Cross-country skiers can also indulge themselves here with a route of 7 kilometers. The ski season here lasts from December to April.
Candanchú (Spanish Pyrenees) – A smaller ski area with 24 kilometers of slopes and 24 ski lifts. Located at an altitude of 1500 to 2400 meters. The slopes here are suitable for all levels. You will also find many off-piste parts here. This area is very suitable for children and cross-country skiers. You can ski here from December to April.
Cerler (Spanish Pyrenees) – Cerler is located in three sub-areas namely Cerler, Ampriu and Rincón del Cielo. Due to the different slopes, you will find here enough challenges for all levels. Freeriders can also indulge themselves here. The area has 60 kilometers of slopes, 18 ski lifts and lies between 1500 and 2630 meters. You can enjoy excellent skiing here from mid-December to mid-April.
Formigal (Spanish Pyrenees) – Just over the border in the Spanish Pyrenees you will find Formigal. In this area, four different valleys are connected to each other, namely Valle de Izas-Sarrios, Valle Portalet, Valle Anayet and Valle Tres Hombres-Sextas. This spacious ski area mainly offers fun for the intermediate to advanced skier. Located at an altitude of 1500 to 2250 meters, you will find here 83 kilometers of slopes and 23 lifts. The winter sports season here lasts from December to April.
La Molina (Spanish Pyrenees) – La Molina is the oldest ski resort in Spain. The area has slopes for all levels. Freeriders, on the other hand, will have less fun here as many areas off the slopes are prohibited here. La Molina is located at an altitude of 1500 to 2445 meters. The ski area consists of 16 ski lifts, which are spread over 50 kilometers of slopes.
Masella (Spanish Pyrenees) – An attractive ski resort with mainly blue and red slopes at an altitude of 1600 to 2535 meters. The ski area is 63 kilometers long and has 12 ski lifts. Masella, together with La Molina, forms the Alp2500 ski area.
Panticosa (Spanish Pyrenees) – The full name of this ski resort is Aramón Panticosa. From the town of Panticosa you can take a gondola to get to the ski area. Panticosa is located at an altitude of 1500 to approximately 2200 meters and has 36 kilometers of slopes. The slopes are for all levels, although advanced skiers may prefer to go to Formigal. Here too the winter sports season lasts from December to April. (source)