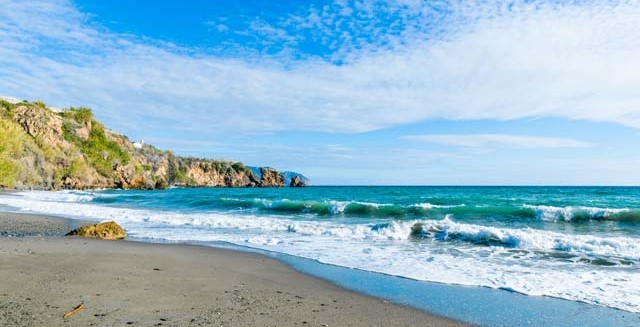 Beautiful beaches of the Costa del Sol
In the search for a home in Spain, there are many factors to take into account. When you decide to invest in real estate or move to Spain, you have to look at the property itself, but the surroundings play an important role as well. You can completely relax on the many beautiful beaches that Spain has to offer. That is why we have listed five beaches with different facilities for you. Do you prefer a family-friendly beach, a more glamorous beach or a nudist beach? You will find it all in the Costa del Sol.
Playa de la Carihuela, Torremolinos
A magnificent beach in Torremolinos that stretches for more than two kilometres and is up to 40 metres in breadth. You can enjoy the clean and undeep water, ideal for a refreshing dip on hot summer days. Its undeep character makes it ideal for families. You can rent umbrellas and beds on the beach, so you can enjoy the entire day on this beautiful beach. There are also public toilets and nice playgrounds for the children.
On the boulevard along the beach you can go running or cycling, but you can also relax in the bars and restaurants. You can taste, among other things, the famous 'pescaito frito andaluz', an Andalusian-style fish. In the mood for some shopping? On the boulevard you will find all kinds of nice boutiques where you can stroll around.
From the centre of Torremolinos you can easily reach the beach: whether you prefer walking, public transport or the car, it is all possible. However, you should be aware that finding a parking space near the beach can be a challenge.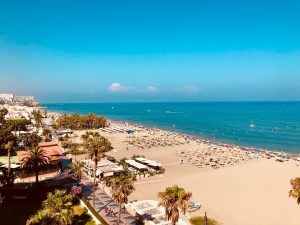 Playa de Pedregalejo, Málaga
Located in the oldest and most traditional fishing neighbourhood of Málaga, you will find the Pedregalejo beach. The beach offers numerous facilities such as showers, hammock rental, parasols, parking and gardens. There is always a pleasant ambience, ideal for a good time with friends.
The boulevard is the oldest in town with many restaurants and bars where you can taste delicious local specialities, such as 'espetos'. This is a typical dish from Málaga where fish is grilled on a stick. During your dinner you can enjoy the beautiful setting and watch the most colourful sunset you can imagine.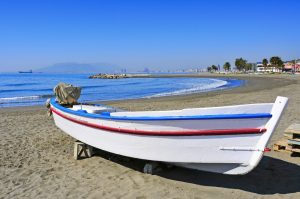 Playa de Rio Verde, Marbella
Located on the west coast of Marbella, in the luxurious Puerto Banus, you will find the Rio Verde sand beach. This beach, which stretches for one and a half kilometres, is well suited for families due to its calm waters and the presence of a wide range of activities. You can find beach clubs such as Aurora, but it is also an ordinary beach where you can completely relax. There are excellent facilities available, including places to wash your feet, showers, shops and you can get a massage. It is also possible to hire a deckchair or even a jet ski.
Puerto Banus is one of the wealthiest places in Málaga and this is reflected in its well-maintained surroundings. With beautiful yachts in the harbour and lots of nice exclusive shops, you can enjoy a glamorous lifestyle in this place. Take a stroll down the Boulevard de la Farma and have a drink in one of the lovely bars or order some delicious tapas. Are you a car enthusiast? Then you are in luck because in Puerto Banus you can spot a large amount of luxury cars.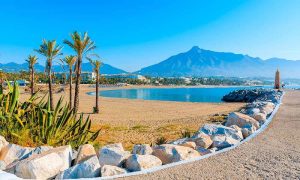 Playa de Cabopino, Marbella
Another great beach in Marbella is located amidst the beautiful sand dunes of Cabopino, this beach is also called Arola. The sand dunes were declared a natural monument in 2001 by the regional government of Andalusia, so it is definitely worth a visit! Playa de Cabopino is characterised by its extremely clean water. This beach also offers a wide range of activities, so there won't be a dull moment. The beach is easy to reach by car as well as by public transport. Although it is a very popular location, you can always find a nice spot!
What makes Playa Cabopino even more fun is that everyone is welcome. Whether you prefer to sunbathe naked or keep your clothes on, it is all possible at the liberal Cabopino beach. This makes the beach very popular among the LGBT community.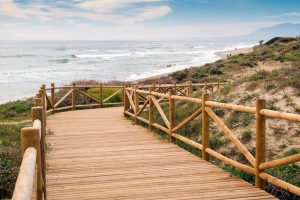 Playa de Benalnatura, Benalmádena
This naturist beach is located on the western side of Benalmádena, which allows you to escape the busy city life. It is barely 100 metres long, but it is an ideal place for those who like to visit a naturist beach. The natural rocky environment makes this beach an unforgettable place and the clear waters are perfect for snorkelling. Playa de Benalnatura is completely surrounded by palm trees, bamboo and other types of Mediterranean vegetation, which ensures you cannot be seen from other places. Also, at the nearby beach bar, wearing swimwear is not allowed.
Be aware that this is a full nude beach and therefore minors are not allowed to enter. It is also good to know that it can get very busy during the summer months and especially on the weekends.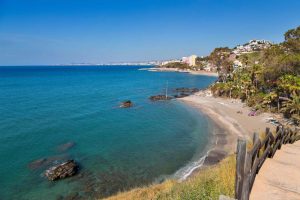 –
Apart from these beaches Torremolinos, Málaga, Marbella and Benalmádena have a lot more to offer. Would you like to read more about these locations and about buying property in Spain? Make sure to take a look at our other blogs!