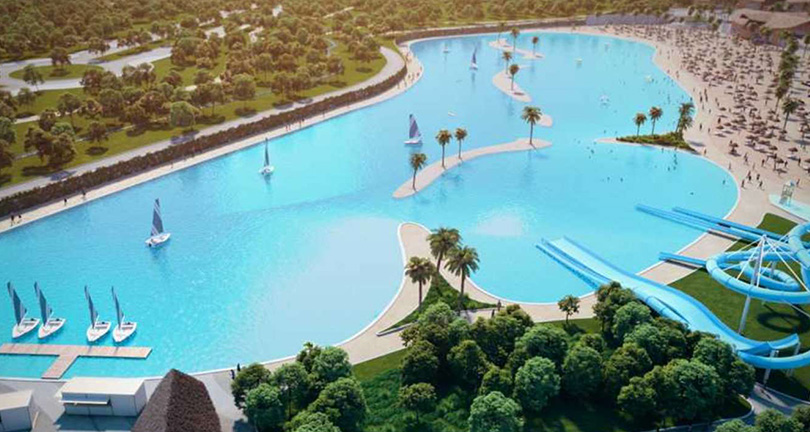 Alovera Beach, largest artificial beach of Spain
The largest man-made beach in Europa is coming to Spain, 300 kilometers from the sea. Alovera Beach is the name of the new beach and is within a drive of about 45 minutes from Madrid. The blue lagoon will be surrounded by white sandy beaches, restaurants and various water sports activities. Many vacationers are looking forward to discover this new 'attraction'. The beach is associated with a couple of popular beaches on the Mediterranean. In total, the complete project of Alovera Beach will be 40,000 square meters and consists out of a beachstrip of about 15,000 square metres and a 25,000 square metre artificial lake. The project will cost around 15 million euros in total. Around the lake almost 1200 new homes will be constructed. Besides that, almost 2000 new homes will be built in the area. It is expected that each year approximately 250,000 tourists are going to visit the beach, paying an entrance fee of 10 Euros.
The firm has released stunning images of the finished project. It will become a paradise where windsurfers, kayakers and swimmers can enjoy in Caribbean blue water. The park shall be open all year and will provide more than 300 jobs.
Living in Spain
Of course, this 'artificial beach' is also favorable for the housing market in Spain. Many (foreign) people who are searching for an apartment or house in Spain, prefer a property close to facilities like beach and sea. In recent years, this has become increasingly popular. Overwintering in Spain is also very popular. Many Northern Europeans travel to Spain to enjoy the warm temperatures there. With this amazing new (swimming) paradise it is very attractive to buy a property in the Madrid region at particularly low price levels. Houses that are located in the Costa del Sol and the Costa Blanca, are already a lot more expensive because of its location. In addition, Spanish housing prices at these Spanish locations increased considerably in 2016 and 2017. When this lagoon is (almost) completed, starting prices of houses in the area around Alovera Beach are for the time being considerably lower than at the well-known Spanish hotspots. However, this will probably change as soon as a lot more visitors and homebuyers discover the area. There are several websites where you can search for (cheap) properties, here you will find one of Madrid.
Some other famous man-made beaches are located in the Malé/Maldives, Cabo San Lucas/Mexico, Monte-Carlo/Monaco, Paris/France and Sentosa/Singapore. But Alovera Beach is going to break the record when it comes to artificial beaches. Do not miss your chance and visit this tropical swimming paradise when it is finished!