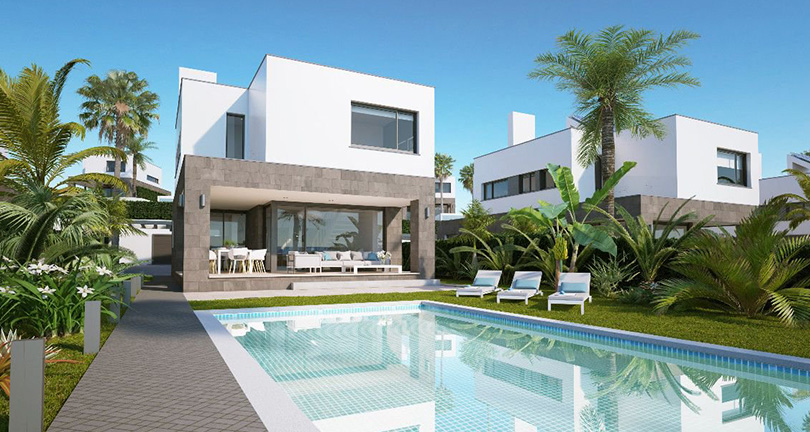 New developments Costa Del Sol
Until recently, the priority for the second house buyer were the so-called interesting Spanish bank repossessions, houses that are owned by the bank due to bankruptcy. However, figures show that growth has led to higher budgets, ie higher investments, so potential buyers like to invest in new developments, for example in Costa del Sol. Nowadays it is normal to search for lucrative deals and not to make any hasty decisions.
Bank Repossessions
With the crisis years just behind us – and Spanish bankruptcy nearly avoided – we have concluded that the real estate market in Spain is slowly making progress. In recent years, foreign real estate buyers were mainly interested in bank owned properties and forced sales. To this date, this has not changed, and one of the major benefits of buying directly from a Spanish bank is that there are attractive mortgage terms. It turns out that Spanish banks often provide (non-)European investors a mortgage of at least 70% of the purchase price. (Be careful: sometimes they advertise with a promises of 100% mortgages but this is only for Spanish inhabitants.) In addition, prices are still very favorable in many cases.
Searching for interesting projects
Nevertheless, not only are there benefits. Bank repossessions are regularly empty, sometimes not even completed, and sometimes it occurs that squatters are living in a detached villa.
Another phenomenon in this case is the quality of the property for example, in the Málaga region, also known as the Costa del Sol. Still one of the most popular areas of Spain when it comes to holidays, but also for long term and second homes. Brokers noticed that apartments from the bank have become more expensive due to the growth of the market and are less in demand. One prefers brand new developments, with high building qualities and technology and next to that a energy-efficient accommodation with green areas.
New development
To quote one of the Costa del Sol residents: "I wanted a brand new apartment with sea views and was also willing to pay for it." Although the costs are often higher, an investor can assume that only preferably 30% more return is achieved. "However, the demand for new construction is so high that price increases are much higher. This is about 10 to 12 percent per year," says broker Willem Bruins (only available in Dutch).
Brokers concluded that price increases are also due to the fact that new developments are relatively scarce. Starting from the fifties, the towns were completely filled with holiday complexes and in 2017 these are outdated in 2017 and often sold as bank repossession. In particular, the British market – as well as the Dutch and Flemish – has a lot of criteria and in the end, the bank repossessions will no longer meet these criteria.
Dream houses and villas
However, the big question still remains: will this new development eventually be built? As soon as there is a bank guarantee (which usually lasts about 10 years), the buyer can have sufficient confidence that his investment will be completed within a few years.
Luxury complexes with all kinds of facilities, such as large swimming pools, tennis (paddle) and golf courses and fitness rooms are popular. In addition, interested investors seek beautiful luxury investments like detached villas with higher budgets. Precisely the New Golden Mile, a beachfront area near the popular Marbella, is loved when it comes to the construction of new villas on large plots. And there a quite of extraordinary designs to find. Discover the possibilities of some dream villas here.