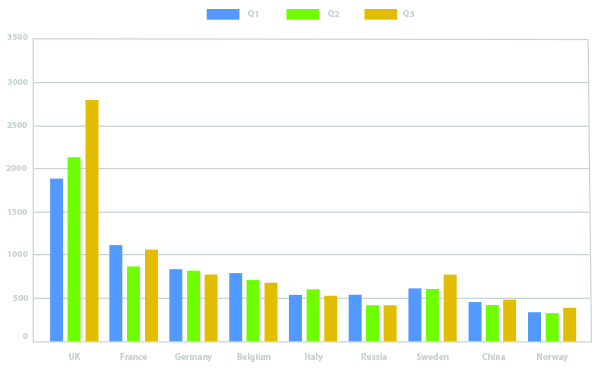 Foreigners are investing more in Spanish properties
The demand for Spanish property is rising rapidly, and interested parties outside of Spain are finding their luck in the housing market more and more often. The latest report of the 'Registro de Propiedad' (1) has shown that in the third quarter of 2015, 13.52% of all Spanish properties were sold to foreign investors. In most registrations, in terms of ownership registrations, it is a European buyer. The statistics show that in the third quarter of 2015 as much as 1 in 10 Spanish properties were bought in the name of a non-Spaniard.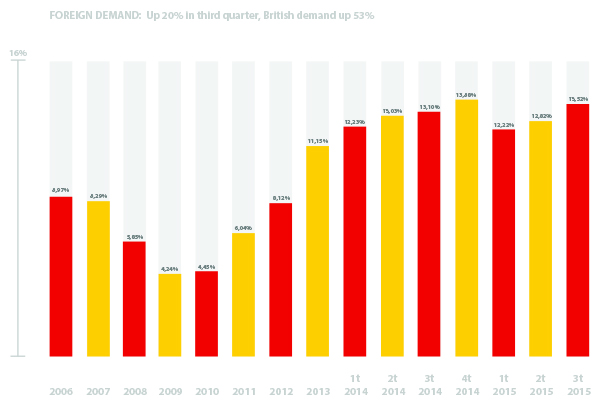 In total, during this third quarter of 2015, 12.535 Spanish properties have been sold to a foreign buyer, this is 20% higher that it was last year. The Brits have been dominatingly present in the Spanish housing market: With 2895 bought houses in the 3rd quarter of 2015, they rank first place in the list of Foreign Spanish property sales. France follows in second place with 'only' 1095 sales. Also the Belgians conquered a spot in the top 5 rankings, with 4th place. The Dutch have been hammering away at the market, but they rank just outside the top 10. However, according to Spanish brokers, the number of Dutch scouring the Spanish property-market in search of their dream home is also rising.
Due to the crisis, the Spanish housing-market has suffered for a few years now. Owners would go bankrupt, which lead the banks to repossess many properties. Because of this economic collapse, houses and apartments were put up for sale at much lower prices. Unfortunately, actual sales failed to materialize. Mainly the Spanish themselves would barely invest in a new house. Eventually, the housing market persevered due to the rise in demand from foreign investors –paired with a subtle growth of local buyers. It is clear that this impact will influence the future housing prices; meaning that they will gradually start to rise.
For the Spanish this means that after years of economic struggles, there is finally a light at the end of the tunnel. The property-market finally has a future again. This is largely due to the active role of foreign investors. For you this gives you a good reason to take a look at the sharp offers now, before the housing prices start to rapidly rise again.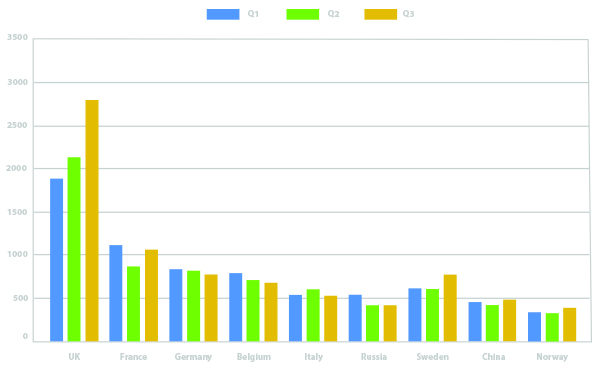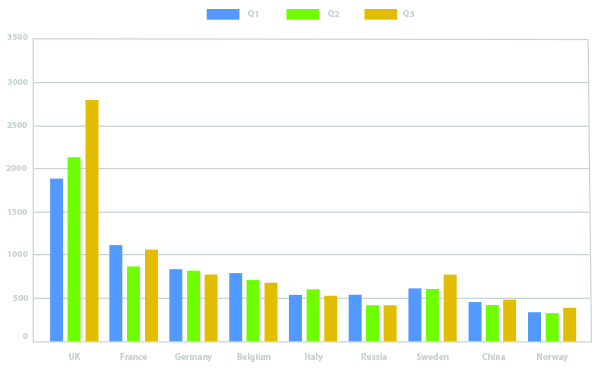 (1) The source of the data above is from the Spanish 'Registro de Propiedad'. 'The Registro de Propiedad' evolves mainly the registration of ownership when it comes to properties. The is also a 'Catastro', this is similar to our cadaster and concerns itself with the description of the Spanish property. A service of the 'Registro de Propiedad' is the 'Estadistica Registral inmobilaria' (ERI), These are detailed statistics on who the owner is, down to area level. An interesting website for people looking to invest in the Spanish property-market.