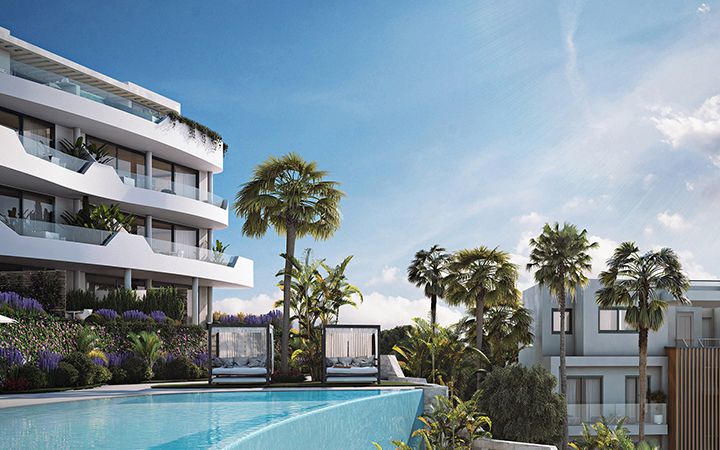 Enjoy undiscovered Higuerón
Hidden between nature, golf courses and the beautiful south coast of Spain, locates Higuerón. This luxurious neighbourhood is found on the border of cities Fuengirola and Benalmádena, at the Costa del Sol. Higuerón is about class. Luxury is all around Higuerón, with its exclusive spa, private apartments and Hilton resort. The area is relatively unknown with the general public. This is unfortunate, because this is a great place to relax, in the heart of Andalusia.
Location Higuerón
Let us start at the beginning. Higuerón is a perfect base to discover the rest of the area, thanks to the central location. Cities like Marbella, Málaga, Fuengirola and Benalmádena are all nearby. With a car, any one of these cities can be visited within 30 minutes. Higuerón is an area that distances itself from the energy of the city. This way, it is possible to enjoy both the relaxed and city life, without carrying the burdens.
Moreover, Higuerón is easily accessible. The airport of Málaga is 20 minutes away and the train station Carvajal is 5 minutes away. This way, there is the possibility to visit more distant cities. What about energetic Seville, or Jerez, the city of sherry. If you would rather visit cities outside of Spain, then don't let the borders stop you. Both Portugal and Morocco are within reach. With the ferry, four Moroccan harbours are accessible from Spain.
Golf in Higuerón
The Costa del Sol is frequently associated with golf. Understandable, because there are more than 60 golf courses in the area around Higuerón. Playing golf at the Costa del Sol is popular with many golf enthusiasts. The courses are clean and well-maintained, and the sun is always shining.
But there is more than golf. The area is popular with surfers too. Surfers' paradise Tarifa is 90 minutes away. The city is the most southern part of the continent Europe and is well-known for the relaxed atmosphere. For sports fans there is more to do in Higuerón. Next to the coast it is possible to practice water sports and with a pair of hiking shoes or a mountain bike, nature is all yours. It is even possible to go skiing. Within two hours, you find yourself right on the slopes of Sierra Nevada.
Relaxation
To complete the luxury, relaxed atmosphere, Higuerón is home to an exclusive spa. Nagomi Spa is located in the Reserva del Higuerón Resports Sports Club. This wellness centre focusses on the luxury segment. For example, special treatments with natural spring water from Sierra de Mijas, the local mountain chain. Obviously, the resort also has swimming and fitness facilities and it is possible to have dinner here. The resort even has a Michelin star restaurant.
Higuerón West
Higuerón is a lovely place to linger. It is a peaceful area with a luxurious way of living and a perfect location. Because of these advantages, Higuerón is a very attractive area when buying an apartment. The luxury image comes with luxury apartments. A new complex that will be built is Higuerón West. The complex is designed with the idea of people living there, working there and relaxing there. The "Live, Work, Play" concept.
Especially living is key in this concept. The apartments and penthouses are built with two, three or four bedrooms and at least a B-rating energy wise. Residents can use the extensive facilities, like sports facilities, a children's playfield and a business centre. Apartments are sold with parking space, a kitchen and a depository included. The apartments can be expanded with their own swimming pool or Jacuzzi, an outside kitchen and underfloor heating. In Higuerón West, with a seaside view on the coast line of Fuengirola, luxury is just around the corner.