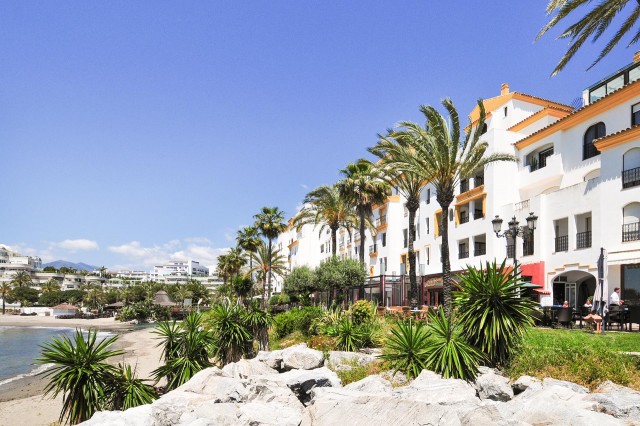 Expectations Spanish property market
It is difficult to predict how the Spanish property market will respond to the crisis surrounding the Corona virus. Who knows what will happen to the current market after that. On a positive note, many people are now in self-isolation every day, with not much else to do than dream about their future plans in the sun. While the actual inquiries and viewings of real estate have been temporarily interrupted,  many people will now daily hunt for a second home online and compare the many different properties available in the search for their (second) dream home.
Before the Corona virus: moderate Spanish house price inflation
Before the Corona virus outbreak in Spain, International rating agency S&P predicted that house prices in Spain will continue to rise this year. Without looking at the possible negative effects of the Corona virus on the Spanish economy and housing market, S&P predicted an average increase in house prices up to 4.2%, which will further decrease to 3.6% in 2021. In 2019, the increase was 4.5%. High demand in key markets has driven house prices up. This has put them out of reach of an increasing number of buyers, which ultimately putting prices under pressure.
At the time of the report's publication, S&P analysts were fairly optimistic about the Spanish economy, on which the housing market is highly dependent. They predict rising consumption, employment and incomes of 1.7% (2% last year). Low interest rates are also expected to support housing demand this year.
However, the S&P report was written before the Corona virus pandemic grew to its current proportions, which may cause all previous forecasts to fail. In Spain, the situation is changing rapidly, and depending on how the situation of the Corona virus develops in Spain, the S&P forecasts may prove too optimistic. (Source)
The Spanish real estate market by region
Before the Corona virus hit Spain harder than almost any other country in Europe, the Spanish property market was already vulnerable with weak demand. We previously wrote about the possible consequences of the Corona virus for the Spanish housing market.
The chart below shows sales figures in selected regions, in January 2020, which are of interest to foreign investors. Namely the provinces and regions on the coast plus Madrid and the islands. It can be seen that the Canary Islands in particular experienced an increase in turnover, after many months of decline. But Almeria and Murcia also enjoyed strong sales growth. However, results were negative for most regions, Barcelona and Alicante in particular experienced an 11% decline. (Source)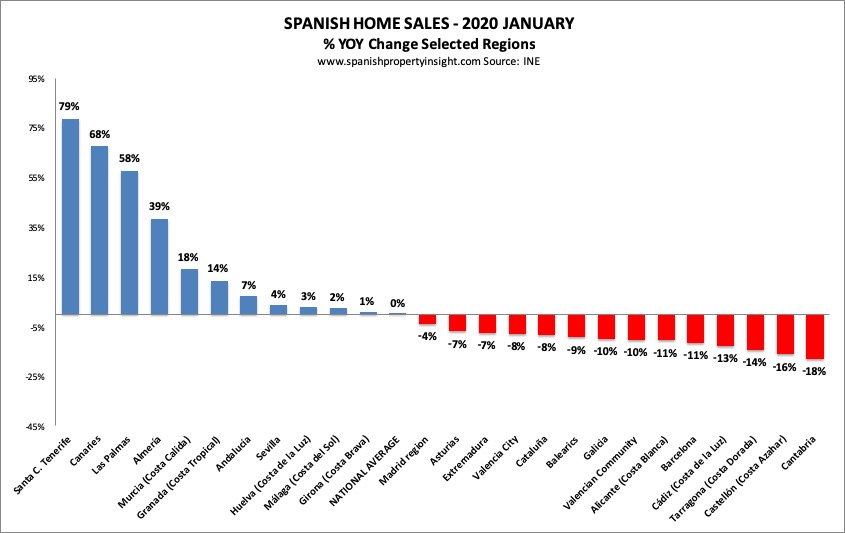 The Corona virus pandemic has turned everything upside down, so it doesn't really matter what happened in January. All previous trends will be greatly disrupted in the coming months. The Spanish housing market was already fragile and will be more at risk of a slump due to the effects of the Corona virus.
Property deals on Costa del Sol
The current housing offer currently consists of luxurious beach houses, modern apartments in a growing residential area and contemporary houses close to the beach and the luxurious 5-star hotel Guadalpin Banus. Take a look at our best Costa del Sol property deals in popular coastal areas such as Benalmádena, Fuengirola, Mijas Costa, Estepona and Marbella.
The Corona virus outbreak has unprecedented consequences for everyone. Spain is currently completely locked. Despite the Corona virus, our colleagues at SLG Property are still available to answer all your questions, make selections and to send information to you. Please contact us if you would like to receive more information about our properties.