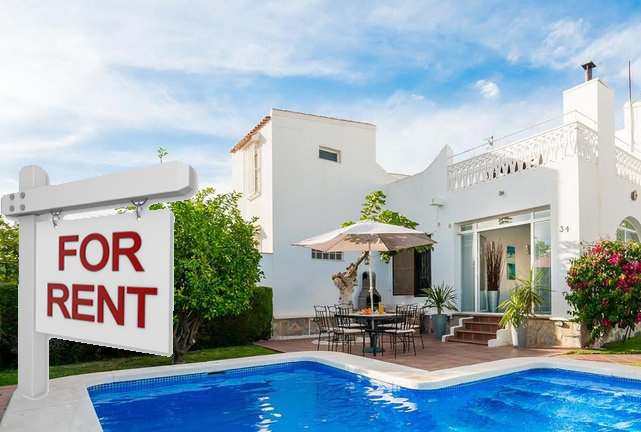 Renting out a property in Spain: What does it entail?
If you have bought a property in Spain, it can be an option to rent it out when you are (temporarily) not living there. There are certain requirements that you have to take into account for renting out your property legally. We will list below all the things you should not forget when renting out your house in Spain.
Rental period
If you want to rent out your house in Spain, you must first check whether the rental is a short-term rental or a long-term rental. In both cases, there are other rules that apply. Short-term rental (viviendas de uso turístico) is only permitted in Spain for recreation and work. Long-term rental contracts are intended for regular use and where the tenant can make the house its' own. Long-term rental is subjected to the national legislation of Spain and short-term rental contracts are subjected to various regional laws. Click here for the regional legislation.
Register your home
Before you start renting out your house, you must apply for an official license in Spain. You do this by filling in a declaración responsable (application form), which you then submit to the local town hall or the nearest tourism department. You must also be able to prove that your house meets certain basic provisions, for example: a heating system, air conditioning, a telephone number where the tenant can contact you, a first aid kit, having a complaint book, providing information about the surroundings, clean drinking water and electricity.
Tax Duty
If you are going to rent out your Spanish home, the rental income must be declared to the tax official. The rental income for short-term rentals must be submitted quarterly in Spain when you are a non-resident. The income data that you submit, consists of the names of the tenants, dates of occupancy and how much rent you have been paid. Form 210 is used for the declaration, which must be completed before the 15th of the last month of the quarter. The tax is then debited from your bank account on the 20th of the same month. 
If you are an official resident of the European Union, Iceland or Norway, you can (partially) reclaim various expenses from the tax official. These are the following expenses:
Council tax and community charges

Costs of utilities such as electricity and water

Any house insurance you pay

Interest on your mortgage

Cleaning and laundry costs

Legal and accounting costs
If you are an official resident of Spain and you rent out a second home, you must declare this as part of your annual income tax declaration. This must be completed every year before the end of June.
Register the tenants
You can rent out your property for a short- or long-term rental. You must keep the Guardia Civil (military police) or Policia Nacional (civilian police) informed in case of both rental periods. If you entrust an agency to take care of the rental of your home, they must inform the authorities. If you take care of the rental of your home yourself, you are responsible for providing the correct information.
All tenants older than 16, must be registered with the Guardia Civil or Policia Nacional. The following information must be supplied:
First names and surnames

Identity document reference, e.g. passport number

Date of birth

Gender and nationality

The dates of occupation
You must also provide your own details, including your ID, name and surname. You must then have the information form signed.
Need help?
There are various organizations that can help you rent out your property in Spain. They take everything out of your hands, so you don't have to arrange anything yourself. These organizations are also aware of the various regional and national laws regarding short- and long-term rentals.
Costa Andalucia Holidays is a company that focuses on holiday rentals on the Costa del Sol. They arrange the requests, bookings, payments, handling and extensive marketing of the rental of your property. Go to the website of Costa Andalucia Holidays for more information.
SpainHolidays4u.com is a company that focuses on holiday rentals on the Costa Brava. This company takes care of the requests, bookings, handling and extensive marketing of the rental of your property.